Access Control Systems
Our access control systems help you efficiently manage staff and visitors on your business premises. Using the latest technologies, our solutions are perfect for protecting access points, doors and high security areas.
The efficient way to control access
Using access control technology allows you to securely and safely manage how people enter, move around and exit your premises. Doors, barriers and access points are fitted with electronic locks and readers that can be opened and closed by individuals with the right security credentials. This can be done in several different ways.
Options for managing access on your site include:
Issuing proximity cards, tags and fobs
Using secure Apps on smartphones
Installing audio entry intercom systems to verify visitors at the door
Viewing CCTV or fitting video entry systems for enhanced verification
Implementing biometric technology including fingerprint and retina scanning
Providing contactless exit buttons to minimise contamination and virus spread
By choosing an access control system from Securitas, you'll benefit from our technical expertise and an-depth risk assessment of your site. Once this has been carried out, we'll share our recommendations for the most suitable access control solution for your business. We'll handle everything for you, from the installation through to ongoing maintenance and future upgrades.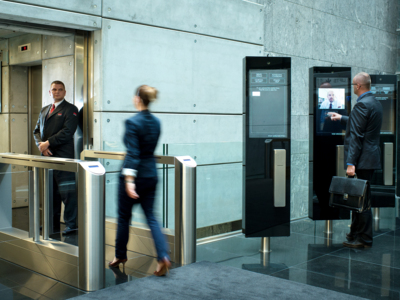 Simplifying visitor management
Integrating access control systems with electronic visitor management platforms is a cost-effective way to replace old fashioned methods of 'signing in' and enhance the experience for customers and employees visiting your premises. We call this the Securitas E-Reception.
Benefits of Securitas electronic visitor management include:
Incredibly quick and easy to use
Customisable software, touchscreen and scanning facility
Prevents queues during busy periods
Registers guests in under 30 seconds
Costs less than physical receptionists
Numerous receptions can be managed from one location
Possible integration with existing systems to provide seamless use
Capable of using QR Codes for quick access.